After owning my 2018 hatch for more than half a year, I decided that enough was enough and decided to figure out how to get rid of the rev hang. As we all know, the rev hang for the 5 speed manual transmission is extremely annoying, especially at higher RPMs. Thankfully, it can be fixed by flashing the ECU. Unfortunately, it does require spending some $$$ for some hardware and software.
Before we continue, please do note that flashing your ECU is a potentially dangerous activity. If you change parameters without knowing what they do, you could render your car immobile. I am only an enthusiast and do not tune any cars professionally, so these findings are from the best of my knowledge, and may not be completely accurate. If you are not willing to take the risk, it is best to consult a professional tuner instead.
Please proceed at your own risk!
The following tools/software are required:
- tactrix 2.0
- subaruEdit Personal
I will not be guiding you on setting that up as there is already plenty of information online about it.
Once you received the stock ROM dump from epifan, we can begin modding.
1) Open up your ROM in subaruEdit
2) Find the tables for (Fueling \ Overrun)
3) Open up the table for "Desired Overrun Mass Air Flow A"
You should see something like this:
As we can see, the overrun table adds a lot of air (and correspondingly, lots of fuel) at high RPMs. This contributes to the rev hang we experience when we clutch in, or decelerate.
The values of interest are located between the coolant temps 80 - 110C. We only need to modify these values because they are in the range of normal driving coolant temperatures.
For my current setup, I made the following adjustments. Feel free to adjust more or less to your liking.
Decreasing these values more will cause the RPMs to drop faster, and may also make stop and go driving more difficult.
For RPM >= 4400 and coolant temp >= 80, use 50% of value (reduce 50%)
For 2800 >= RPM = 80, use 70% of value (reduce 30%)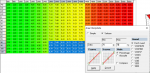 For 1600 >= RPM = 80, use 80% of value (reduce 20%)
In the end, we should get a table that looks something like this:
You may have to manually adjust some values so that the map is smooth, and such that the values increase monotonically as the RPMs increase.
4) Perform the same steps on tables "Desired Overrun Mass Air Flow B" and "Desired Overrun Mass Air Flow C"
5) Upload ROM to ECU with flash utility
With the rev hang delete, I noticed the following changes:
- The car is less jerky between shifts. I no longer burn the clutch shifting between 1->2 trying to get a smooth transition.
- Rev hang completely eliminated at high RPM (> 4000).
- Throttle seems more responsive
Credits:
RalliSport Automotive for dropping hints on what to modify for rev hang. The original thread discussing FB20D tuning is here: subaruxvforum [dot] com/forum/performance-modifications/171066-2018-fb20d-tuning.html
I hope you will find this guide useful.